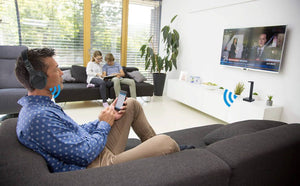 Mike C.
My mum has tinitus and has some trouble hearing the television at times. When she does, she pops these on, turns them on and she's away. We've got them hooked up with an optical cable and they're perfect for what she needs. I wasn't sure when I ordered them..............
Comfort-by Montreal Book Collector
These headphones are excellent for my purpose, which is watching TV. I am deaf in one ear, and hard-of-hearing in the other. The only complaint is that my ears don't quite fit inside the foam padding, which can cause some discomfort after a while. The headphones are very snug, and put quite a bit of pressure on my head. I hope they will loosen up with use............